03 Jun

5 Parkour Drills you can do during your Lunch Break!

Work sucks. Sitting in a chair, staring at a computer, filing TPS reports. It's enough to make any ninja commit seppuku. Luckily, UE is here to save the day with 5 quick parkour drills you can do during your lunch break to free your mind and relieve your stapler-envy. 

1) QM Crawls. Our #1 warmup buddy quadrupedal movement is easily the most versatile form in all of parkour. You can crawl forwards, backwards, sideways, gorilla style, or all of the above. Get your hands dirty and challenge yourself to complete a lap around your building. Start with something attainable like 1/4th or halfway around. Then increase the distance as you get stronger. (Bonus points if you work at the pentagon)
2) Rail Balance. I'm betting your office has a handrail somewhere outside. One of the simplest and most effective training drills (that I personally include whenever possible) is standard rail balance. Pick a foot and balance as long as you can before falling 5 times on each leg. As you get better at balancing, you may have to reduce this to 3 times per foot unless you want to be on the rail for half an hour. 
3) Silent Broad Jump Burpees. This one is for those of you that like to sweat. Pick space where you have some room in front of you, such as a sidewalk. Jump as far as you can and still maintain a silent landing, then drop down and do a pushup. Repeat for 5 sets of 10. If you really work at keeping your landing as quiet as possible, this should be an absolute killer. 
4) Window Ledge Cat hand Traverse. Worried you wont be able to work hanging skills without construction scaffolding around? Fear not! Just find a first story window and cat hand from the ledge. Try to traverse as many hand-steps as you can in alternating directions. Repeat 3-5 times.  At first the limiting factor will be that your fingers will freakin' HURT. After a few days, however, this fingers will acclimate and this will become your favorite challenge. 
5) Sitting Resisted Toe Raises. Here's a bonus drill that you can do without even leaving your desk (for you workaholics out there). Ankle injuries are the most common parkour injury outside of scrapes and bruises, and the best way to prevent them is this toe raise exercises. While seated, put one foot on top of the other. Try to raise the toes of the bottom foot while keeping the heel on the ground. Resist with your top foot to make the raise difficult. You want to resist enough to make the exercise tough, but not impossible. Repeat for 3 sets of 10 on each foot and you can kiss those ankle injuries goodbye.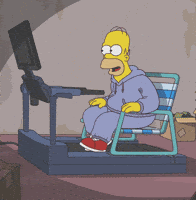 Image credits:
http://giphy.com/gifs/4qANoeI3g45a0
http://theclothesmakethegirl.com/2012/06/19/tuesday-10-badass-burpee-variations/
http://www.reactiongifs.com/hang-in-there/
http://giphy.com/gifs/the-simpsons-exercise-gym-Za7ZWOU0su5BC